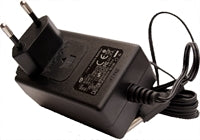 E-Stim 2B Power Supply
Regular price
$68.00
$0.00
Unit price
per
A multi voltage, switched mode mains power supply (110-240V), for use with E-Stim 2B Electro box.
Gain around 30% more power out of your E-Stim Series 2B, as well as eliminating any problems caused by flat batteries. Only for use with the 2B control unit. Will NOT operate the Series 1, Series 2, A-Box or Remote. Please ensure you remove the internal battery before using the external power supply.
Regulated output
Overvoltage protection
Approved to international standards and CE marked
PSE and SAA approved for Japan and Australia
Plug options supplied for US, EU, Australia and UK!
---