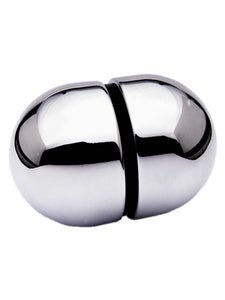 E-Stim Electro Egg Large
Regular price
$158.00
$0.00
Unit price
per
The E-Stim Electro Eggs have hatched! The Electro Eggs are the latest range of Premium Bi-Polar electrodes from E-Stim Systems. It's a collection of 3 mirror polished and beautifully rounded Bi-Polar insertable electrodes. Hand polished to a mirror finish giving a beautifully smooth and shiny surface making them ideal to slip inside.
Designed to look great and feel even better, for both vaginal and anal use. With 3 sizes there will be one just right for you.
All Hail the Large Electro Egg. The biggest of the New Electro Eggs from E-Stim Systems for those who want to really be filled up. This time featuring a black insulator ring which separates the 2 mirror polished halves of the egg and twice the volume of the Medium Electro Egg.
Designed for both vaginal and anal use, the smooth domed top and bottom of the Electro Egg help it slip right inside. With the contacts top and bottom rather than side to side, which gives a more natural feeling action when in use. However unlike our other premium insertables, the Electro Egg is intended to be fully inside, so those lovely tingly squeezing sensations are felt that much deeper for greater pleasure. It also features a captive cable which has been tested to a "Pull Strength" of over 12 kilos, this along with rounded bottom makes removal just as easy as insertion.
The Large Electro Egg is fitted with a 1.5 meter long captive cable, so there's no need for any other cables, it will simply plug straight into an E-Stim's power box. With no connectors sticking out of the Electro Egg this is an ideal electrode for wearing under underwear, allowing you the option to take the play to the next level.
Supplied in a reusable protective storage tube, the Electro Egg is covered by E-Stims' unique Lifetime Guarantee (cable not covered).
The Large Electro Egg can be washed off using hot water with light detergent, medical grade cleaning wipes or sex toy cleaner and then wiped dry. Do NOT use caustic cleaning substances as this may damage the Electro Egg and do NOT immerse it in any liquid for cleaning. Make sure the electrode is fully dry before storage. The Electro Egg is NOT designed to be disassembled by the user for cleaning.
We recommend the use of a water-based lubricant such as our ElectroGel for play so as to ensure easy insertion and good conductivity. Do NOT use silicone or Hybrid lubricants. Please note condoms cannot be used with our electrodes.
(Insertable) Length: 73 mm
Diameter: 50 mm
Weight: 301 g
Connections: Captive Cable with 3.5 mm jack plug
Guarantee: Lifetime (Cable not covered)
Please note MyStim and E-Stim Systems products are compatible but may require additional cables for conversion/connection.
---